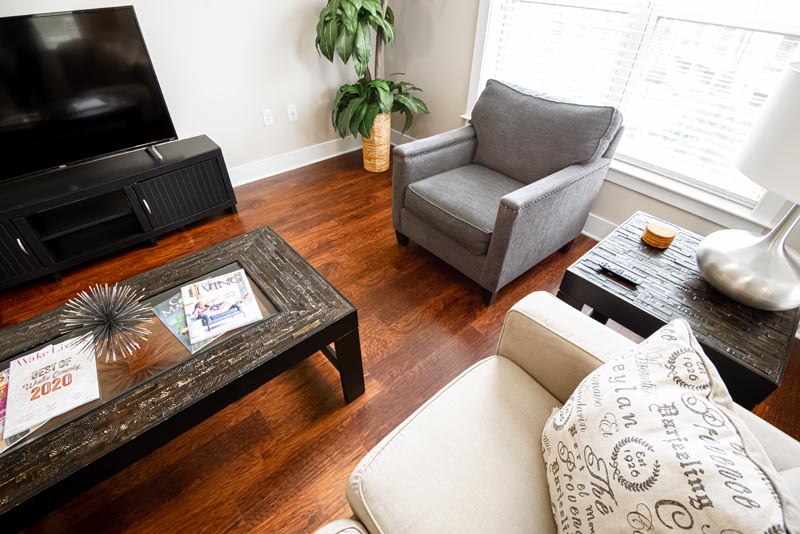 March 19, 2021
5 Benefits of Furnished Apartments Over Hotels and Airbnb
The pandemic has changed the way many people and businesses do business and short term furnished apartments are no different. Before Spring 2020, hotels and sites like airbnb, vrbo and others were top of mind when it comes to travelers looking for a furnished place to stay for a few days, weeks or months.
All that has changed.
1. Short Term Apartments are Less Transient
What I've found running a corporate housing company that provides furnished apartments on short term (and mid term) lease in Cary, NC is that many of my guests prefer staying in a furnished rental because of the less transient nature of a short term apartment.
First, what is a short term rental? There are several definitions but I focus on the definition by the State of North Carolina and Wake county where I operate all of my furnished apartments.
North Carolina and Wake county define a short term rental as less than 90 days. This is for tax purposes of course which is why hotels, airbnb, actual bed & breakfasts and Norton Property Services collect tax on all stays under 90 days.
This definition excludes staying with a friend or relative who isn't conducting regular business. 
Another common definition is a stay of no more than 30 days. This aligns closely with vacation rentals that in North Carolina are defined as short term rentals where a guest plans to return to a permanent residence in another city or state.
Many of Norton Property Services' guests have already sold their home out of state and are moving to the Cary area and looking to purchase a home.
So, short term apartments being less transient has been a major benefit for guests and travelers since they don't want to stay in a cold hotel or someone's basement apartment… especially during these times. Sometimes hotels and Airbnbs can have 2-3 guests move in and move out during the same week.
The optics are bad for hotels.
2. Furnished Apartments Are A Better Value
We are in times where the average person is more informed than any other time in history. The internet has shrank the world and opened access to information to everyone with an internet connection.
This means people are more knowledgeable, confident and they tend to know a good deal when one presents itself.
When looking at the cost of a comparable hotel, typically, you will pay for what you get. It is possible to spend $300+ per night to stay in the most prestigious hotels and locations. You could also secure not much more than a bed and 4 walls for $40 per night but I'm sure you know what you'll get for that.
Furnished apartments are a better value because you get the same high quality finishes without breaking the bank. Norton Property Services' apartments are upscale and provide guests with a full kitchen — That's a kitchen with an oven, microwave, full size refrigerator and completely stocked with silverware, dinnerware, utensils etc.
This far outperforms the hotel sink and hotplate that is commonly found in many hotel chains.
3. Furnished Apartments Are More Comfortable
Let's face it, this isn't your home and it shouldn't be but while you're here it may as well be comfortable. Comfort comes in different flavors from a full kitchen to cook in to the softness of luxury linens even to the mattress and bed.
Our mattresses are comfortable. They are mattresses we have in our homes. They aren't built for the hotels who expect a lot of wear and tear. Hotels tend to build things for durability instead of comfort.
Have you walked into a hotel bathroom and its completely tiled? The walls, floors and tub not top mention the sink and toilet are probably porcelain. This is cold in nature and cold in temperature.
Our baths may have tile but we take the time to put down a bath rug so your feet don't get cold during a midnight trip to the bathroom. This is the type of creature comforts you can expect to find at Norton Property Services.
4. Furnished Apartments Have Better Amenities
Sure many hotels have a pool and business center but do they have a rooftop lounge? How about an outdoor grilling station or a dog park? What about being right on the lakeside of an actual lake and plenty of walking and bike trails?
Short term rental providers select apartments with better amenities. Many of the guests at one of our furnished apartments have access to more than just a pool and business center.
Amenities like:
Rooftop lounge

Outdoor grilling stations

Dog runs

Lakes and trails

Fitness centers

Exterior storage large enough for a car

Car washing stations

Parking garage

Billiards
Plus guests staying in short term apartments are actual residents for all intents and purposes. So when the community has events you are able to attend. When the community brings in specialty food trucks, you are able to participate. When the community hands out holiday gifts they will be your holiday gifts.
When was the last time your Airbnb host or hotel left a bag of treats for the holidays?
5. Short Term Furnished Apartment Providers May Offer Customized Solutions
A great benefit to staying with a short term rental is the owner may offer a custom solution for your specific needs.
Norton Property Services has provided guests with desks, rollaway beds, curtains, specialty coffee makers, shopping carts and other items that will make your stay more enjoyable. 
Do not hesitate to request such items but understand short term rentals are a business and should aim to make a profit. Typically, you will have a better chance with a special request if your stay is 90 days or longer since this helps with vacancy and turnover costs.
The next time you're traveling and need an extended stay consider short term furnished rentals and apartments instead of hotels. You may find it to be the perfect solution for you!